AgEd Today Timely Topics
11/02/18 -- Just One. 91st National FFA Convention & Expo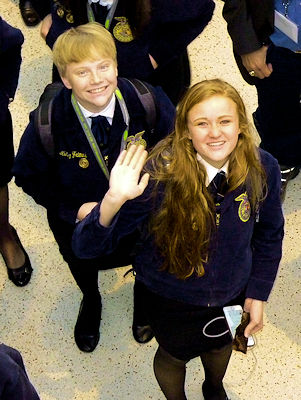 The 91st National FFA Convention & Expo held in late October in Indianapolis drew a record 69,944 attendees. We were there in the thick of things, enjoying all the sights and excitement.
Thank you to everyone who stopped by our booth to greet our team or to learn more about how AgEdNet.com can provide curriculum solutions for your agriculture classroom. Your enthusiasm gives us that extra push to go back home even more committed to agriculture education.
We had three winners in our daily drawings for a $50 cash prize:
Wednesday: Joe B. from Clayton, Ohio
Thursday: Katie C. from Ellsworth, Wisconsin
Friday: Kim S. from Auburndale, Florida
Here are links to more information from the 90th FFA Convention and Expo:
See more of our favorite photos on the AgEdNet.com Facebook page:
https://www.facebook.com/AgEdNet
Now that's a timely topic!
Copyright © 2017 Stewart-Peterson Inc. All Rights Reserved. NC
STEWART-PETERSON is a registered trademark.
Photo credits: AgEdNet.com staff photo by Nancy Crombie.

Back to top