See you at National FFA
Convention & Expo!
October 25-28, 2017, in Indianapolis, Indiana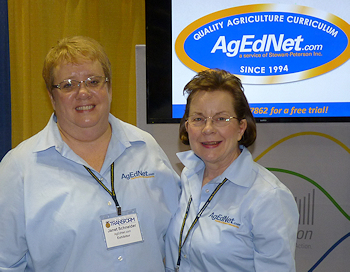 The 2017 National FFA Convention & Expo returns to Indianapolis, Indiana, with the theme "I Can. We Will." AgEdNet.com will be at the Expo Wednesday, Thursday and Friday. Stop by our booth for a tour of our website, to ask questions, or just to say hello. See why so many instructors count on AgEdNet.com for quick, convenient, 24-7 access to agriculture curriculum and daily agriculture news. Comprehensive. Flexible. Affordable.
Booth #4526 dates and times:
We hope to see you at our Expo booth #4526, which is close to the Teacher's World area.
Wednesday, October 19, from 12:00 to 5 p.m.
Thursday, October 20, from 8 a.m. to 5 p.m.
Friday, October 21, from 8 a.m. to 3 p.m.
Enter our daily drawing for $50:
Instructors, stop by our booth #4526 to fill out your entry for a daily drawing of $50.
Photo credit: Staff photo.